Ali Ibadullayev | Biography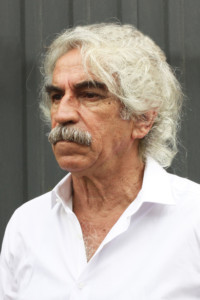 His works are in various museums and galleries are kept in foreign countries:
Spain, Italy, France, Sweden, the Netherlands, the USA, Venezuela, Great Britain, Turkey, Switzerland, Japan.

1951    Was born in Baku
1970    He graduated from art school named after Azim-zade
1975    Moscow Academy of Arts named after Stroganov
1978    Artists' Union of the USSR
1996   "Red Cross" the winner of the international organization
2003    Ilham Aliyev inauguration  artistic design . Heydar Aliyev Palace
2006   The name of the honored artist of Azerbaijan was awarded
2006   The complex monument to national leader Heydar Aliyev Xirdalan. Granite
2007   A composition dedicated to the martyrs of the 20 January. Xirdalan.
2008   Composition "Mugam" (7 composition) "Rast", "Shur", "Segah", "Shushtar",   "Humayun", "Chargah", "Bayati-Shiraz". Bronze
2008   Works are kept in the collections of the Museum of Modern art
2009   Farman Salmanov, a monument Tyumen, Russia. Khanty-Mansiysk city center.
2009   Sculpture "Tree" Contemporary Art Museum. "Bronze" in Baku, Azerbaijan.
2009   Sculpture "Comet" Contemporary Art Museum. "Metal" in Baku, Azerbaijan.
2009   "Equilibrium" composition. In the lobby of the Supreme Court. "Wooden" Baki.
2011   Solo exhibition in Berlin, Germany
2011   Cinema of Nizami in the foyer "Dervish" 4 Composition
2011   Berlin, "Xocaliı" monument dedicated to faciyəsinə. "bronze"
2012   Nizami Ganjavi's monument in Rome, Italy.
2012 JW Marriott Hotel Absheron "Lights" (3 composition) "Bronze". Baki
2013 Friendship monument to the Azerbaijan – Poland. Poland city
2013   Plaque for his achievements in the construction of water supply system Stefanowi Skrzywanowi "bronze" the city of Lodz, Poland.
2014   Board film director Rsim Ojagov. "Bronze" in Baku, Azerbaijan.
2015   Oil engineer Pavel Potocki monument "bronze" in Krakow, Poland.
2015    Abstract sculpture Hotel  «Intourist»
2015    Sculpture grenade – bronze – Goychay, Azerbaijan.
2015   Sculpture «flowering» – European Parliament Strasbourg
2015   Has been awarded the title of People's Artist of Azerbaijan
2017  Sculpture  « Mehseti  Ganjavi » – marble City Cognac France
2018  Sculpture  « Thoughts and Desires » – 380 x 160 x 160 Bronze Ariana Park Geneva United Nations